"Knowledge Changes the World": Where Politics and Academia Meet in W&M's NSIN Classroom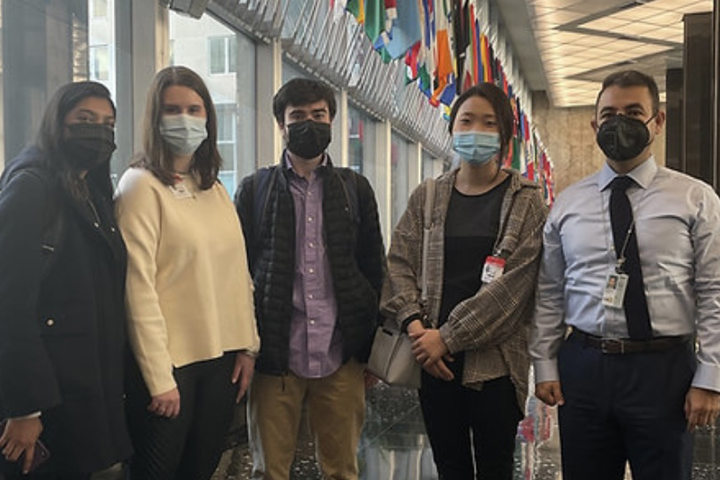 Real world experience:
Students in the William & Mary's NSIN: Hacking 4 Defense course have the opportunity to take on real-world challenges within the Department of Defense and intelligence communities. The students pictured were part of W&M's NSIN Keepers of Peace (KOP) team during a visit to the State Department on November 5.
Photo submitted
by Ava Barnes '23, Global Research Institute

|

February 1, 2022

The William & Mary division of the National Security Innovation Network (NSIN) is another example of how professors at the university are finding new ways to bring real-world experiences into the classroom.
Now in its second semester at W&M, the NSIN: Hacking 4 Defense class gives students a chance to take on real-world challenges within the Department of Defense and intelligence communities, such as restructuring the peacekeeping role U.S. and UN peacekeeping in a post-Afghanistan environment and design new policies to stem the attrition of female members of the Army's Special Operations Forces.
"We need it especially for the political arena – universities and businesses coming together to create meaningful impact," said retired Air Force Major General Mark Matthews, adjunct speaker.
As the Global Research Institute bridges the gap between scholarship and politics, it offers courses that prepare students to work on cutting-edge issues in their future careers. Other courses GRI has developed in recent years have focused on blockchain and development, 5G networks, and participation in State Department diplomacy labs. Despite its title, the Hacking 4 Defense course isn't actually about computers – "hacking" refers to problem solving, so students of any major who want to develop solutions and gain hands-on experience in policy are encouraged to apply.
Nitya Labh '22, teaching assistant in fall 2021, said the NSIN course is divided into a series of stages, with the ultimate goal of producing human-centered national security policy recommendations. First, students are placed in teams and given a real-world problem facing the Department of Defense. They are then tasked with researching and presenting solutions.
"The majority of the semester is spent discovering beneficiaries," Labh said. "Each week, the students interview a dozen people in connection with the issues. Each week, they walk through the process and determine who the solution will benefit and develop potential solutions, or "hypotheses," that help those beneficiaries. Ten weeks, 10 interviews per week, 100 total – once they've done that, they finalize a recommended solution called a minimum viable product.
As a student of the NSIN course last semester, Myles Marino '23 underwent this process as he sought to improve technology acquisition for the military. Myles said the course encouraged an entrepreneurial spirit between him and his teammates.
"If you want to make a tangible impact almost completely independently and use your creativity outside of the classroom, then this is one of the best opportunities you have to do that," he said.
Along the way, students receive expert guidance from Matthews, who is a two-star retired U.S. Air Force general with 34 years of experience. Early in his career, General Matthews flew F-15 fighter jets based in Alaska to intercept Russian bombers. He then moved to the Pentagon, where he was part of the planning team responsible for developing a counter-offensive campaign to drive Iraq out of Kuwait in the 1990s. His experience ranges from presidential briefings to deterrence operations against North Korea, to NATO support against Russian nuclear aggression.
"One of the reasons I teach this course at William & Mary is to benefit the Department of Defense from the very bright, innovative ideas that the students come up with," Matthews said. "This is replicated at 50 universities across the United States. The Department of Defense recognizes that much of the innovation comes from people looking at problems with fresh eyes, from new perspectives to solve very complex national security problems in the United States.
Matthews was first approached by the university to introduce a new chapter of NSIN: Hacking 4 Defense at the suggestion of government lecturer Dennis Alcides Velazco Smith, which also aims to help undergraduate students make contributions concrete solutions to urgent challenges. As co-director of GRI's Project on International Peace and Security (PIPS), Smith mentors students as they cultivate solutions to emerging threats to international security.
"Tackling real-world problems inspires learning, empowers students, and instills an ethos of service, with the added benefit of helping to bring the academic and national security communities together," Smith said. "Supporting the establishment of the National Security Innovation Network's Hacking 4 Defense program at William & Mary was a natural fit for PIPS. Hacking 4 Defense is unique and excellent training. It's fantastic to have someone with Mark Matthews' experience running the program.
"You have a policy expert in a teaching role," Labh said. "Receiving instructions from a politician transformed the educational experience."
Course offerings such as NSIN empower students to solve complex challenges and work in teams, while contributing to William & Mary's larger mission of engaging students in transformative research experiences, Labh said.
"This [course] is part of the innovation arm of the Department of Defense," Labh said. "Hacking 4 Defense takes the problems that exist across the DoD and outsources them to students for research and workshops. They rely on academia as a resource to solve problems. William & Mary believes that undergraduates have a role to play in real-world research.
The course develops critical thinking skills through a flipped classroom approach, in which students present their findings and proposed policy solutions to the class before receiving constructive criticism from their peers.
"A flipped classroom approach means the teacher doesn't get up and teach in front of you," Labh said. "The information is presented through mini lectures that the students give to each class about what they have learned and the interviews they have done this week, and the professors and students ask them questions. It is the students who learn and then teach others what they learn.
For the spring semester, students will meet the ongoing needs of the DoD – from assisting Army Futures & Concepts teams in acquiring protective technologies so ground forces can hide in plain sight, at the examination of how the military can balance the crucial role of energy in enabling forces around the world, while recognizing that it is a potential vulnerability.
While the name Hacking 4 Defense may appeal to tech-inclined students, any student in any major who is passionate about solving complex problems and gaining hands-on policy experience is encouraged to apply on TribeCareers. . Those interested in learning more are encouraged to browse William & Mary's Hacking 4 Defense website.
"Academia is most powerful and impactful when it's relevant to policy, because it's knowledge that changes the world," Labh said. "Creating academia-informed policy and empowering undergraduates as much as possible allows us to pioneer in both directions."