Sharing Our Knowledge conference kicks off in Wrangell this week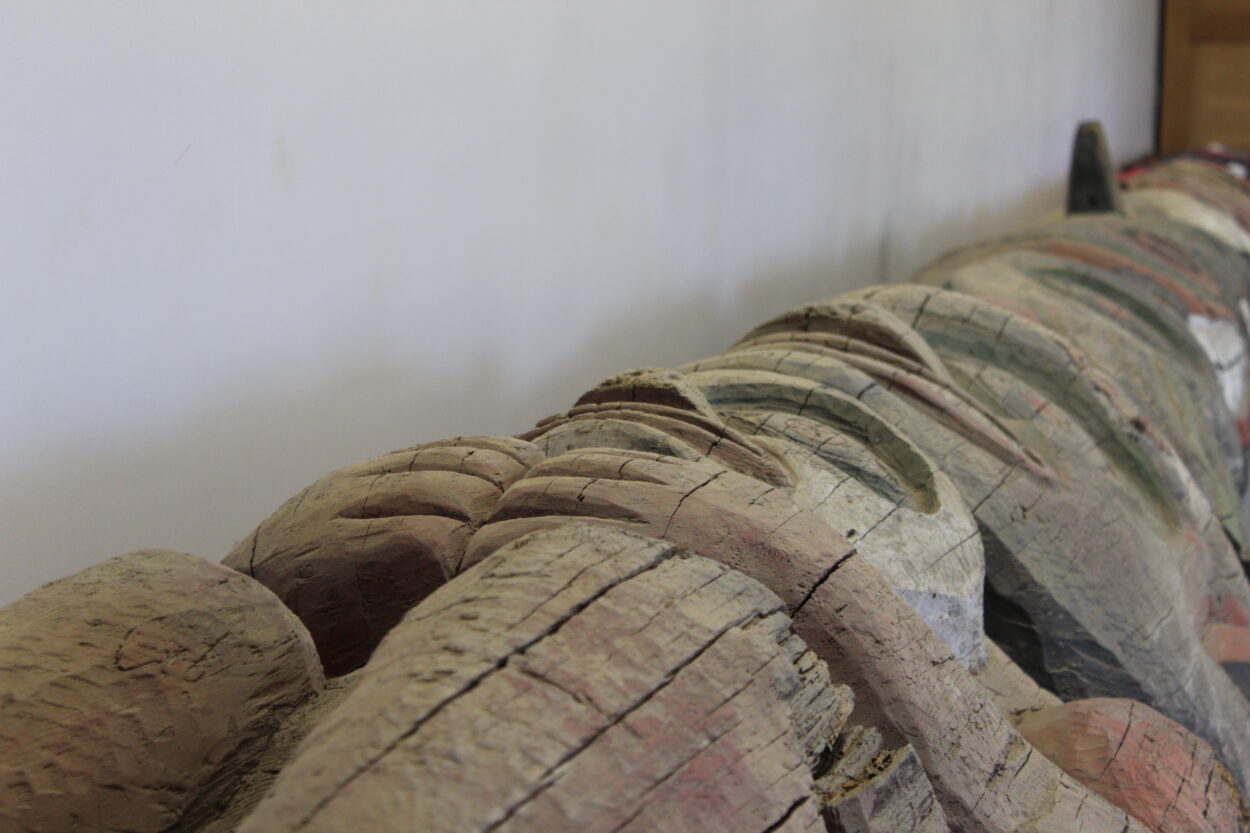 A biennial conference focused on the Tribes and Clans of Southeast Alaska is taking place this week in Wrangell. Organizers say they are bringing a new youth-focused element to the conference this year and are using video technology to extend its reach.
Dubbed "the conference of the clans," Sharing Our Knowledge aims to highlight Indigenous research, history, language, arts, and culture from Southeast Alaska and British Columbia. The decades-old conference is being held in Wrangell for the first time, scheduled for September 7-11.
"It brings together people who are carriers of culture, language, elders, people who just want to know more about their culture, as well as academics and scholars," says Brooke Leslie, a local representative of the organizing committee of the conference, and a tour operator in town. "It brings them all into the same frame to be able to share with each other. I think it's really unique.
Conference organizers say Sharing Our Knowledge is about collaboration, mutual respect and a level playing field for scholars and culture carriers, as opposed to the "under the microscope" approach of Indigenous studies of the recent past.
"This is a great opportunity for the Tlingit, Haida and Tsimshian peoples to discover [about] research and writing about them," says Joaqlin Estus, program coordinator and Indian Country Today reporter. "It's been a common complaint from Native American groups that they never see or hear the results of the research and the writings that have been done about them. So that's what he does and that gives scholars a chance to understand that they are not just studying the past – we have a lot to offer today.And contemporary Tlingit, Haida and Tsimshian cultures are also worth studying.
Sharing Our Knowledge was first held in 1993 in Haines and Klukwan, and has been held almost every odd-numbered year since, in communities across the Southeast.
Organizer Peter Metcalfe has been with the conference from the start, helping with video and photo documentation. He says a unique feature is variety: "We have a lot of presentations that take place outside the room, so to speak," he says. This includes weaving and spear-throwing demonstrations, cultural performances and Tlingit yoga, plus a film festival, Indigenous arts market and presentations on history, language and contemporary research. indigenous.
Linguist and organizing committee member Alice Taff says a major focus of this year's conference will be the painful legacy of Native American boarding schools.
"As the planning for the conference progressed, we increasingly turned to the boarding school situation," says Taff.
Wrangell hosted a Bureau of Indian Education boarding school for 43 years – The Wrangell Institute.
Records collected by the state and individuals recall the intense physical, sexual, and emotional abuse of students at the Wrangell Institute. Students have been beaten for speaking their mother tongue, survivors told KSTK in 2016.
"Saturday's whole day will be spent talking about it, thinking about it, and giving presentations about boarding schools," Taff continues. "We have films we are going to watch and then in the afternoon there will be a healing ceremony at Shoemaker Bay", the harbor just outside the former site of the Wrangell Institute.
This is the first time the conference has been held in Wrangell, and the conference organizers are taking the opportunity to bring another first to Sharing Our Knowledge: a youth element.
"We have contacted the Wrangell Public School District, and they will be bringing in students to attend some presentations," says Leslie, a local organizing committee representative. "We also have a young guest speaker – Chris Bryant – to talk about mindset, health and wellness."
Additionally, a team from Outercoast College of Sitka will be on hand, helping to facilitate free workshops for elementary, middle and high school students during the conference.
Leslie says COVID permeated this year's Sharing Our Knowledge conference in several ways. One is the conference theme: A Time for Peace (Lingít (Tlingit): G̱uwakaan Gaawú (Peace [deer] time)) (X̱aad Kíl (Haida): Asgáay Núut uu Galaadáang (In this time of peace)) (Sm'algyax (Tsimshian): Ha'lig̱a̱wa̱gani (A time [making] peace)).
"When we started planning the conference, COVID was not on the table," says Leslie. "It wasn't a global pandemic at the time, because it was the fall of 2019. But as COVID started to emerge, it seemed even more fitting as a theme."
The pandemic-related delay of the conference – it was to be held last year – caused it to coincide with an important Wrangell anniversary: ​​almost exactly 100 years ago, Chief Shakes VII (Charlie Jones) and Tillie Paul Tamaree were arrested in Wrangell after Paul helped Chief Shakes attempt to vote.
"That led – about a year later – to a decision in which it was recognized that Alaska Natives were legal citizens," says Metcalfe, a member of the organizing committee. "It was kind of groundbreaking. And then two years later the United States Congress decided that was true for all Native Americans. So that was a significant event that happened in Wrangell ago. 100 years, and we'll talk about it [at the conference]."
The COVID pandemic has also expanded global teleconferencing technology. Metcalfe says this means presenters will be able to address conference attendees from around the world: "We get Zoom presentations from Montreal, Canada; from Kursk, Russia; Oxford, England; and the East Coast of the United States," he says, adding that the live-streamed presentations will also be publicly available on the conference website.
Funding for Sharing Our Knowledge comes from conference registrations, as well as several federal and private grants. Wrangell's tribal government, the Wrangell Cooperative Association, recently received funding from Juneau-based community development organization Spruce Root to help with the conference.
Since 2007, Sharing Our Knowledge has also been supported in part by the National Science Foundation. Around the same time, the Smithsonian Institution got involved and brought 3D scanning equipment to this year's conference, organizer Metcalfe said.
"It's amazing technology that they showed in 2019 in Juneau when they brought back a replica of the Sculpin Hat," says Metcalfe. "The sculpin was 200 years old and so fragile it couldn't be handled. They recreated it in great detail and a replica was sculpted using a milling machine in which they entered the three-dimensional data and recreated the hat. It is now in the hands of the Kiks.ádi clan.
This super detailed 3D scan will be available for much of the conference: "So anyone in your audience has a heritage, especially an indigenous heritage, like a tribal hat, a shaman's rattle or anything of that nature, and you want to keep forever, come to the conference, make arrangements with the Smithsonian," Metcalfe says. "If they're interested, they'll scan it for you and make a permanent record."
Committee members, such as local representative Leslie, point out that the conference aims to educate anyone interested in getting involved.
"It's not just for an Alaskan Native, it's for anyone interested in the Tlingit, Haida or Tsimshian peoples, [anybody] who has an interest in learning more about the native people who first made Southeast Alaska their home," says Leslie.
Anyone wishing to register for the Sharing Our Knowledge 2022 conference can register online at sharingourknowledge.org or in person at the Nolan Center starting September 8.
Registration is $75 for the full conference and $25 for seniors and students. There will also be an option for one-day registration ($25 or $10 for seniors and students).
Organizers are also looking for volunteers to help move chairs and tables for the healing ceremony at the site of the former Wrangell Institute. Contact Brooke Leslie to volunteer: 907-305-0990.
Contact KSTK at news@kstk.org or (907) 874-2345.